| | | |
| --- | --- | --- |
| | | |
All photos ,video clips etc. on this site are the property of Gogouyave. com and must NOT be re-distributed or published without proper authorization.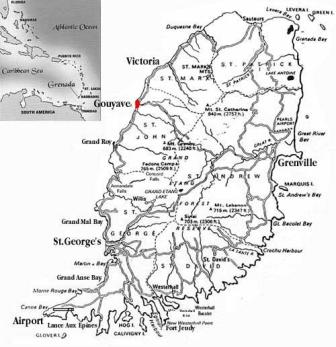 Today the word Gouyave means Action to some, others fishing. The town of Gouyave gained notoriety in Sat.2nd March 1795 , when Julien Fedon , "a free coloured planter" who owned a large estate in Belvidere , St. John's led a revolt against the British in what is called the Fedon's Rebellion.

First called Charlotte Town and Duncan 's Town, the town was later named Gouyave because it was abundant in Guava. On Tue. March 5th 1795, a major battle took place in the town between Captain Guerdon and Fedon's men. Over thirty persons were killed on both sides.

This town and parish was the second most important part of Grenada after the Town of St. George, the capital. As a matter of fact, after the great fires of St. George's many people and businesses took up residence in the town of Gouyave.

Gouyave provided refuge for hundreds of persons displaced after the Great St. George's Fire on Fri. 1st Nov. 1775's.

Hence, it was not uncommon to see advertisement on the availability of boarding houses and Day Care Centers. It was the home of many important and rich merchants and the staging grounds for the Fedon Rebellion of 1795 –6. During that period it was a free port or Port Liberte and naval base for the French insurgents.

The Town of Gouyave was divided into four segments, Portuguese Town around Middle River, Duncan Town around St. Rose and Lower Depradine Street and the L'Anse.
Where to in Gouyave
Places to eat
Kelly's Hot Spot
Paul's Catering
Homestead Guest House
Step Out Bar and Restaurant
Dano's Bar
Night Club and 'Party place'
Qwest Night Club
The White House (every Friday night)
Internet Café
Licks N Bytes
Where to Stay
Willies Courts
Blue Bay Lodge Website
Mango Palma Apartments Website
Town House Apartments Website